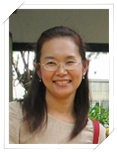 Scientist
+662-201-5658
+662-354-7157
piyanee.rat@mahidol.ac.th

Education
B.Sc. (Fisheries) Khon Kaen University, Thailand
M.Sc. (Pharmacology) Srinakharinwirot University, Thailand
Current Research
  Chemical analysis and Natural product
Publications
Namchaiw P, Jaisin Y, Niwaspragrit C, Malaniyom K, Auvuchanon A, Ratanachamnong P*. The leaves extract of Coccinia grandis (L.) Voijt accelerated in vitro wound healing by reducing oxidative stress injury. Oxid. Med. Cell. Longev. 2021: 3963510.
Niwaspragrit C*, Ratanachamnong P, Munyanont M, Deewatthanawong. Study on organic acid and antioxidant activities of Elaeagnus latifolia Linn. Acta Hortic. 2020: 1298: 551-6
Jaisin Y*, Ratanachamnong P, Wongsawattkul O, Watthammawut A, Malaniyom K, Natewong S. Antioxidant and anti-inflammatory effects of piperine on UV-Birradiated human HaCaT keratinocyte cells. Life Sciences. 2020; 263: 118607
Ratanachamnong P, Phivthong-Ngam L, Namchaiw P*. Daily White kwao krua dietary supplement alleviates LDL oxidative susceptibility, plasma LDL level and improves vasculature in a hypercholesterolemia rabbit model. eJTCM. 2020; 10: 496-503.
Phowichit S*, Ratanachamnong P, Matsathit U, Ussawawongaraya W. Anti-oxidant activity, phenolic and flavonoid constituents of Crude extracts Piper ribesioides and Zanthoxylum limonella traditional herbal medicine in Northern Thailand. RJ-RUMTT. 2019; 18(1): 25-39.
Lekhavat S*, Srimongkoluk U, Laungsopapun G, Ratanachamnong P. Effect of Drying Temperature and Quercetin Concentration in Feed Solution on Microencapsulation of Quercetin by Spray Drying Technique. Agricultural Sci. J. 2018; 49(2)(Suppl.): 205-8.
Jaisina Y*, Ratanachamnong P, Kuanpradit C , Khumpum W, Suksamrarn S. Protective effects of γ-mangostin on 6-OHDA-induced toxicity in SH-SY5Y cells. Neurosci Lett. 2018; 665: 229-35
Jaisin Y*, Ratanachamnong P, Prachayasittikul S, Watanapokasin R, Kuanpradit C. Protective effects of ethyl acetate extract of Eclipta prostrata Linn against 6-OHDA induced neurotoxicity in SHSY5Y cells. ScienceAsia. 2016; 259-65. 9.
Suknuntha K*, Thita T, Togarrati PP, Ratanachamnong P, Wongtrakoongate P, Srihirun S, Slukvin I, Hongeng S. Wnt signaling inhibitor FH535 selectively inhibits cell proliferation and potentiates imatinib-induced apoptosis in myeloid leukemia cell lines. Int J Hematol. 2016; 1-10.
Ratanachamnong P* and Niwaspragrit C. Quantitation of organic acids sugars, total polyphenol contents and free radical scavenging activities of Kolan (Nephelium hypoleucum Kurz). KHON KAEN AGR J. 2015; 43: 679-86.
Niwaspragrit C, Munyanont M, Jaisin Y, Ratanachamnong P*. Study on physical properties, hydrolyzable tannin contents and free radical scavenging activities of Phyllanthus emblica Linn. from Kanchanaburi province. Thai J Pharmacol. 2013; 35: 3-13. 12.
Ratanachamnong P, Matsathit U, Sanvarinda Y, Piyachaturawat P, Phivthong-Ngam L*. Effects of Curcurma comosa Roxb. on platelet aggregation and atherosclerotic plaque development in hypercholesterolemic rabbits. Int J Pharmacol. 2012; 8(4): 234-42. 13.
Sinchai T, Plasen S , Sanvarinda Y*, Jaisin Y, Govitrapong P , Morales NP, Ratanachamnong P, Plasen D Caffeine potentiates methamphetamine-induced toxicity both in vitro and in vivo. Neurosci Lett. 2011; 502: 65-9.
Jaisin Y, Thampithak A, Meesarapee B, Ratanachamnong P, Suksamrarn A, Phivthong-Ngam L, Phumala-Morales N, Chongthammakun S, Govitrapong P, Sanvarinda Y*. Curcumin I protects the dopaminergic cell line SH-SY5Y from 6-hydroxydopamine-induced neurotoxicity through attenuation of p53-mediated apoptosis. Neurosci Lett. 2011; 489(3): 192-6.
Chumark P, Khunawat P, Sanvarinda Y*, Phornchirasilp S, Morales NP, Phivthong-ngam L, Ratanachamnong P, Srisawat S, Pongrapeeporn KuS. The in vitro and ex vivo antioxidant properties, hypolipidaemic and antiatherosclerotic activities of water extract of Moringa oleifera Lam. leaves. J Ethnopharmacol. 2008; 116(3): 439-46.
Pinthong D*, Songsermsakul P, Ratanachamnong P and Kendall DA. The effects of imidazoline agents on the aggregation of human platelets. J Pharm Pharmacol. 2004; 56: 213-20.