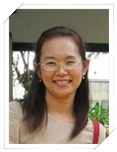 Scientist
+662-201-5658
+662-354-7157
piyanee.rat@mahidol.ac.th

Education
B.Sc. (Fisheries) Khon Kaen University, Thailand
M.Sc. (Pharmacology) Srinakharinwirot University, Thailand
Current Research
  Chemical analysis and Natural product
Publications
Jaisin Y*, Ratanachamnong P, Kuanpradit C, Khumpum W, Suksamrarn S. Protective effects of γ-mangostin on 6-OHDA-induced toxicity in SH-SY5Y cells. Neurosci Lett 2018 Feb;665:229-35.
Matsathit U, Mekseepralard C, Wongsawatkul O, Ratanachamnong P, Upapan P, Laddawal Phivthong-Ngam L. Thermal Steam Aerosolization Protects Against Lipopolysaccharide-Induced Sepsis in Rats.  J Med Assoc Thai. 2016; 99(11) : 206-15.
Suknuntha K, Thita T, Togarrati PP, Ratanachamnong P, Wongtrakoongate P, Srihirun S, Slukvin I, Hongeng S. Wnt signaling inhibitor FH535 selectively inhibits cell proliferation and potentiates imatinib-induced apoptosis in myeloid leukemia cell lines.  Int J Hematol. 2017 Feb;105(2):196-205.
Jaisin Y, Ratanachamnong P, Prachayasittikul S,  Watanapokasin R, Kuanpradit C. Protective effects of ethyl acetate extract of Eclipta prostrata against 6-hydroxydopamine-induced neurotoxicity in SHSY5Y cells.  Science Asia. 2016;42:259–65.
Pinthong D, Songsermsakul P, Ratanachamnong P and Kendall DA. The effects of imidazoline agents on the aggregation of human platelets. J Pharm Pharmacol. 2004; 56: 213-20.
Chumark P, Khunawat P, Sanvarinda Y, Phornchirasilp S, Morales NP, Phivthong-ngam L, Ratanachamnong P, Srisawat S, Pongrapeeporn KuS. The in vitro and ex vivo antioxidant properties, hypolipidaemic and antiatherosclerotic activities of water extract of Moringa oleifera leaves. J Ethnopharmacol. 2008;116(3):439-46.
Jaisin Y, Thampithak A, Meesarapee B, Ratanachamnong P, Suksamrarn A, Phivthong-Ngam L, Phumala-Morales N, Chongthammakun S, Govitrapong P, Sanvarinda Y. Curcumin I protects the dopaminergic cell line SH-SY5Y from 6-hydroxydopamine-induced neurotoxicity through attenuation of p53-mediated apoptosis. Neurosci Lett. 2011; 489(3):192-6.
Sinchai T, Plasen S , Sanvarinda Y , Y Jaisin , Govitrapong P , Morales NP , Ratanachamnong P , Plasen D Caffeine potentiates methamphetamine-induced toxicity both in vitro and in vivo. Neurosci Lett. 2011; 502: 65-9.
Ratanachamnong P, Matsathit U, Sanvarinda Y, Piyachaturawat P, Phivthong-Ngam. Effects of Curcurma comosa Roxb. on Platelet Aggregation and Atherosclerotic Plaque Development in Hypercholesterolemic Rabbits. Int J Pharmacol. 2012; 8(4): 234-42.
Niwaspragrit C*, Munyanont M, Jaisin Y, Ratanachamnong P*. Study on Physical Properties, Tannin content and Free radical scavenging activities of Indian gooseberry from Kanchanaburi Province. Thai J Pharmacol. 2013; 35: 3-13.
Ratanachamnong P* and Niwaspragrit C. Quantitation of organic acids sugars, total polyphenol contents and free radical scavenging activities of Kolan (Nephelium hypoleucum Kurz). Khon Kaen Agr. J. 2015; 43: 679-86.