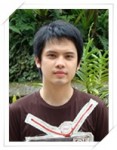 Instructor
+662-201-5648
+662-354-7157
pansakorn.tan@mahidol.ac.th

Education
M.D. (First Class Honor) Mahidol University, Thailand
Ph.D. (Cellular and Molecular Pathology) Madison, Wisconsin, USA
Publications
Tanratana P, Ellery P, Westmark P, Mast AE, Sheehan JP*. Elevated plasma factor IXa activity in premenopausal women on hormonal contraception. Arterioscler Thromb Vasc Biol 2018 Jan;38(1):266-74.
Ungprasert P, Tanratana P, Srivali N. Autoimmune hemolytic anemia and venous thromboembolism: A systemic review and meta-analysis. Thromb Res. 2015. DOI: http://dx.doi.org/10.1016/j.thromres. 2015.09.004.
Westmark PR, Tanratana P, Sheehan JP. Selective disruption of heparin and antithrombin-mediated regulation of human factor IX. J Thromb Haemost. 2015;13(6):1053-63.
Suvachananonda T, Wankham A, Srihirun S, Tanratana P, Unchern S, Fucharoen S, et al. Decreased nitrite levels in erythrocytes of children with beta-thalassemia/hemoglobin E.

Nitric Oxide

. 2013;33:1-5.
Permpalung N, Wongrakpanich S, Korpaisarn S, Tanratana P, Angsanakul J. Trend of human rabies prophylaxis in developing countries: toward optimal rabies immunization. Vaccine. 2013;31(38):4079-83.
Unchern S, Laohareungpanya N, Sanvarinda Y, Pattanapanyasat K, Tanratana P, Chantharaksri U, et al. Oxidative modification and poor protective activity of HDL on LDL oxidation in thalassemia. Lipids. 2010;45(7):627-33.